Foundation Indoor playground or trampoline park. How does it work?
May I introduce myself? My name is Frank Pieper. I am a trained banker, have a diploma in marketing and communication and am the owner of Contigo Indoortainment. So, if you interested in founding a new indoor playground and/or trampoline park, I am your direct contact person. From the location analysis to the first sketch of your equipment and the related calculation of your future investment.
We are Contigo
Founded in 1998 as a consulting company, Contigo quickly developed into a specialist for indoor playgrounds and later to trampoline parks. While in the beginning we "only" provided start-up consulting and subsequent marketing, the range of services has been constantly expanding. In addition to a comprehensive POS system, Contigo today also supplies the corresponding RFID equipment as well as other accessories. From trampoline socks to equipment for the gastronomy and the complete supply of play and sports equipment. Contigo is probably the only supplier that guarantees the complete equipment for the indoor park.
But before we can deliver the newest tag area, the high ropes course, the trampoline for the bounce area, the ball pool, the steep slide or even the perfect ninja course to our customers, it is a long way to go.
foundation of indoor playground and trampoline park
At first, there is only an idea. Maybe you visited an indoor playground with your children? Or you could see for yourself how many visitors a trampoline park can have? Perhaps you have already roughly calculated the turnover that can be expected here.
In any case, the trampoline park seems more to be a profitable business model. But how do you start such a business? What's important? Which order should be considered? Where is the best location? Which property? And how can the future investment be financed? Are there leasing models available? Franchise providers? Subsidy possibilities?
Contigo is the specialist for the indoor park
This is the moment when Contigo becomes active. For more than 15 years we have been supporting entrepreneurs in founding indoor playgrounds or trampoline parks. Since 2005 we have been analyzing locations. We calculate the visitor potential. And we deliver unique insider knowledge about possible competitors or the best possible equipment. Also we support you in choosing the right property or advise you on the construction of your own hall. Of course, based on key figures, years of experience and up-to-date analyses. And finally, we bundle all this in a unique business plan.
This business plan is then finally the basis for further support in the founding process. Now it is important to convince financial backers of this idea, together. Building and/or change permissions must be inquired and requested. Fire protection condition must be determined and submitted in the form of expert reports. And in the meantime, we plan – incidentally – the equipment of the future company: For example, should it be a fully adequate gastronomy, or will a small bistro be enough? What requirements must be met by the POS system? And what possibilities are there for generating possible additional sales? Advertising? Costumer loyalty? Planning of the Opening? With previous training? Employee briefings? Contigo puts it all together: The right questions and the matching solutions. At the right time. On time, and, if necessary, with emphasis.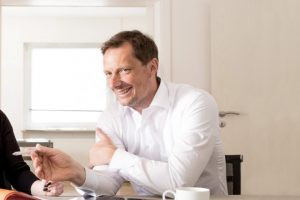 Because: I want to be absolutely certain that your foundation of your indoor playbround or trampoline park will be a complete success.
 Yours, Frank Pieper 
+49(2602)83871-10
Here are some LINKS